About FUSE
Florida University Southeast (FUSE) is licensed by the Florida Department of Education, Commission for Independent Education. In 2020, FUSE's status was updated from its former name Florida Institute of Finance College (FIFC), which was established in 2015.
Why FUSE?

FUSE's fully online distance learning approach prepares students to directly enter rapidly expanding professions through applied education.
FUSE Vision
FUSE's online educational programs provide our students with the opportunity to develop the expertise required to make an immediate impact upon graduation.
FUSE Mission
FUSE targets professions related to business, technology, data, and analytics in need of qualified graduates with both technical skills and practical experience.
Excellence

We provide quality courses in a teaching and learning environment conducive overcoming the challenges professionals face learning in today's busy world.
Diversity
By embracing diversity in all of its dimensions, FUSE fosters international cooperation and the exchange of ideas, research, and knowledge.
Integrity
In order to create a solid foundation to grow into our vision, FUSE was built on high standards of integrity and character.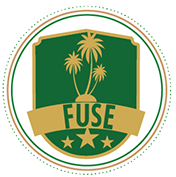 FUSE's CORE VALUES
Click Here to Learn More about FUSE's License